As hospitals and health systems race to acquire large physician practices in an offensive or defensive market strategy, hospital administrators and business development teams often view the transaction closing date as the finish line. Prudent health care leaders recognize that to capitalize on the significant practice investment, a comprehensive integration strategy, from pre-due diligence through onboarding and beyond, must be employed and successfully executed.
Physician Practice Acquisition Continuum: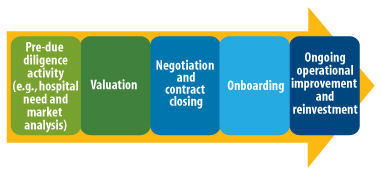 While effective planning and diligence are required in all areas of this continuum, the onboarding process is often the most critical component to enable practices to generate an acceptable return on investment.
Medical practice executives and physicians cite the following aspects of the onboarding process as the most influential on overall success:
Start early. A typical practice transition process should start at least 60 days prior to the transaction closing date; best practice onboarding process begins 90 days prior to practice start date.
Concentrate on culture. New staff should attend health system orientation, patient satisfaction training, have access to leadership development programs, and receive public acknowledgement as new members of the health system team.
Implement hospital IT and other systems from the outset. Health systems should resist the temptation to allow groups to keep their current IT systems during the transition or permanently, which can lead to costly and lingering interface and operational issues.
Identify patient flow and referral patterns. Understand, from the patient perspective, a clear process flow within the office and potential transitions to and from the hospital, physician specialists, and/or other ancillary/outpatient settings.
Over communicate. Hold regular staff, physician, and leadership meetings to engage the new practice on progress and discuss/resolve issues that arise, and ensure that other medical staff members and hospital leadership are aware of the new clinical resource.
What strategies has your organization used to successfully onboard physician group practices? What are your lessons learned from the process?