At a recent ACHE cluster, the question was asked "How do you match your organization's investments in innovation and integration [to meet imperatives of health reform, industry transformation] with the state of development and pace of change in your specific market?"
It is critical to synchronize how fast and in what way your organization pursues innovation and integration with the state and pace of your market. Issues arise when organizations invest in transformation too quickly/slowly or too much/little relative to their market, as depicted by the orange quadrants in the figure below.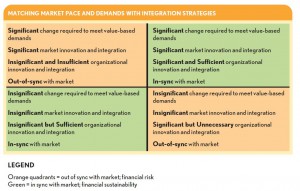 To avoid being out-of-sync with your market, and to craft the right approaches with the right timing, each organization should thoroughly evaluate key indicators that characterize how innovative and integrated your market is/likely to be.  These include level of consolidation of both provider and payor organizations, prevalence of value-based partnerships, health plan pricing and coverage models, performance on value-based metrics, and additional indicators of "new-era readiness", like sophistication of population health management infrastructure, among others.  Click here for more details.  Accounting for the defining and differentiating features of your market will provide crucial perspective, enabling your organization to set appropriate strategic priorities, and inform you as to the required level of complexity of planning initiatives, intensity of investments, and overall pace at which to move forward.