« Cases
Assessing Financial Implications of a Regional Medicare ACO Joint Venture
Client/Profile
Two community hospitals in the Mid-Atlantic region and a large, independent primary care practice
Challenge/Situation
To help the potential partners in a Medicare ACO joint venture to understand the potential financial results and flow of funds, in order to guide decisions about structuring the joint venture. The partners serve approximately 60,000 Traditional Medicare covered lives.
Process
Veralon developed a financial model that estimated the baseline financial impact and sensitivity analyses under different rates of reduction in inpatient utilization, post-acute spending reductions, quality performance and inpatient share of cases.
To ensure a shared understanding, the financial model delineated three profit-and-loss statements of interest, as illustrated below.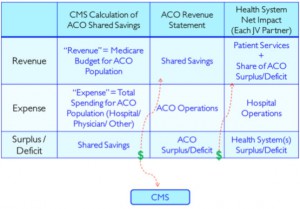 Veralon met both individually with the senior leadership team from each hospital, as well as with the group as a whole Over the course of one month, Veralon was able to illustrate the benefits of working together, including lowering the minimum savings rates required to generate ACO shared savings, sharing infrastructure costs, and strengthening alignment with independent PCPs.
Results
Veralon assisted the partners in creating a strategy aimed at maximizing the opportunity, including efforts to increase share of affiliated primary care physician hospitalizations, improving quality, and managing non-affiliated post-acute care costs.
The financial estimates, including multiple scenarios, helped each party evaluate the investment required, potential returns, and cash flow timing. This promoted an open and fruitful discussion of each party's goals and allowed them to develop the optimal organizational structure and capitalization strategy.
The partners are currently applying for the Medicare Shared Savings Program and looking forward to other shared savings opportunities.