« Articles
The Impact of Consolidating Markets on Academic Medical Centers

Strategies & Solutions
2013
Academic medical centers (AMCs) are facing unprecedented financial pressure as funds for academic and research programs decrease, and competition for the remaining funds increases.  Federal funding continues to decline, and the shift toward population health management and translational research will drive investments in newer technologies and infrastructure required to support such endeavors.
These compounding pressures in academic medicine are forcing AMCs to rethink their current and future role. In the absence of these historically steady sources of funding, AMCs are relying heavily on the clinical engine of the hospital to support research and teaching programs that keep their institutions at the forefront of medicine.
With the increased prominence of the clinical component of the tripartite mission, academic medical centers may need to rethink long-held assumptions and consider whether strategic reorientation is required during this time of major environmental change. One approach AMCs are using to shore up clinical revenue streams and reduce costs to continue to drive their core research and teaching programs is by increasing their scale – getting larger to meet the demands of the market.
The environmental conditions in which an AMC finds itself, combined with its financial position and performance, will dictate whether increased scale is the appropriate choice and which strategies are feasible and appropriate for achieving scale. Not every AMC will be able to mimic the strategies of the highest-performing AMCs, or even be able to remain independent.  Each AMC must take an objective view of its position in the market, review what it is capable of, and determine what it does not want to become in a worst-case scenario.
That said, most AMCs are facing similar problems as we move into an era of closing markets, risk shifting to providers, and smaller operating budgets.  Five market dynamics – horizontal integration, vertical integration, physician alignment, payor consolidation, and value competition – are impacting ongoing industry transformation. These dynamics are creating the implications noted in the graphic below – from consolidation to ACO development as well as large employed physician groups and an increased focus on cost and quality performance.

Our observation is that given the emergence of these five market dynamics, most AMCs have moved away from their historically independent models as tertiary hubs, and have begun to build meaningful scale using the five primary approaches noted below. The clarity of strategic direction among these AMCs and their ability to focus on and execute their chosen strategy given other competing priorities is a hallmark of success that should sustain them well in the future.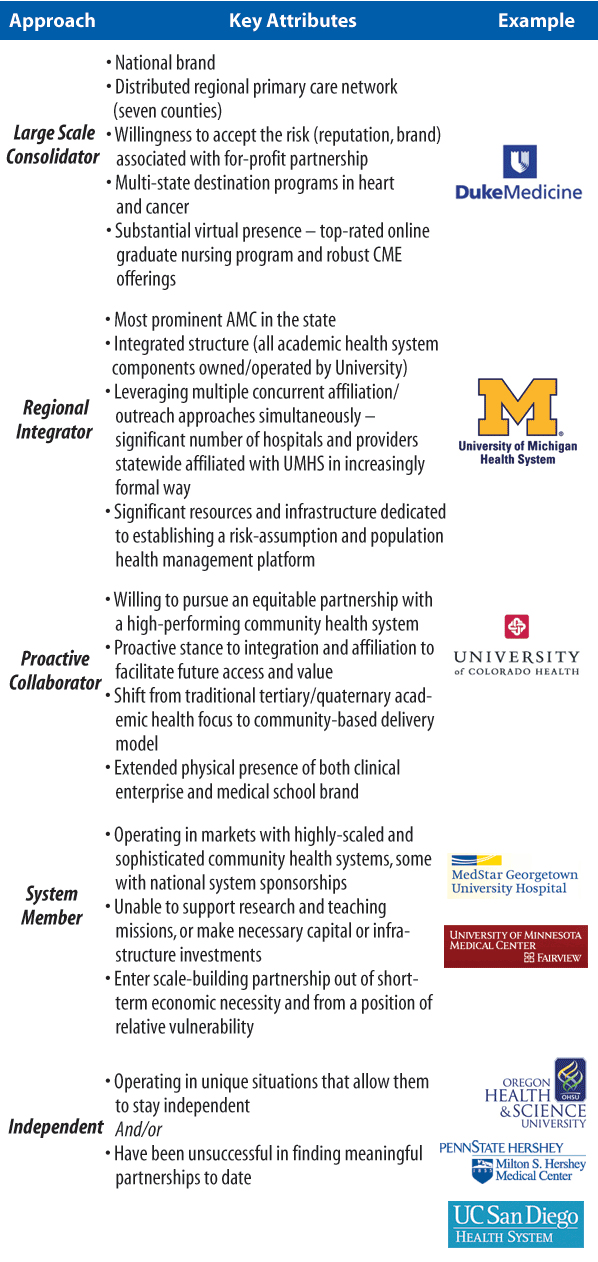 Regardless of the specific environmental and organizational challenges of an AMC, there is likely an approach that can meet the organization's scale needs and ensure success in a consolidating market; however, a willingness must exist to adapt to the new realities of health care delivery by adopting new strategic orientations including:
Achieving real, meaningful integration of the AMC, faculty, and other components of the continuum of care
Directing resources toward population health management and away from attracting tertiary and quaternary cases
Becoming more sophisticated in sustaining profitability by increasing productivity in research and teaching arenas and holding them more fiscally accountable