Integrated health systems are called to assume responsibility for overall population health management.  With nearly one-quarter of the population under the age of 18, the management of child health is clearly paramount in health systems today.
With an acute care oriented industry pediatrics is often a minor focus since children typically represent only about 5-10% of the medical-surgical discharges and ambulatory surgeries in a market.  However in the emerging care delivery model, prevention, care management, and office-based ambulatory care are key components of an effective integrated health system and pediatric care represents 20% or more of total activity in these areas (see figure below).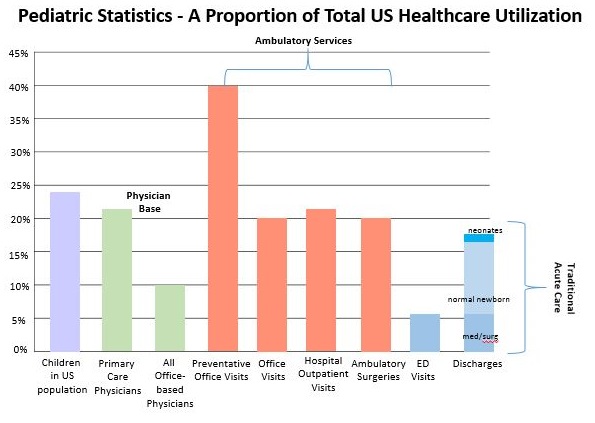 This raises the question of how well prepared a given health system's pediatric system of care is to operate under the emerging population health management model.  There are a few notable areas in which pediatrics excels, which could lead the way to transform a system's overall system of care:
Primary care orientation:  A strong primary care base is a lynchpin for success in a reformed environment, and pediatrics does well in this area.
General pediatricians outnumber specialists by a ratio of five to one
Medical home model has been in place in many practices for decades
Extensive use of pediatric nurse practitioners
Better than average access with extended hours, call-in lines, and same day sick appointments
Ambulatory model of care:  Most pediatric care is already delivered outside of a traditional inpatient acute care setting.
Children usually experience the health care system in physician offices or emergency/urgent care settings, not inpatient hospital units
Over the past two decades hundreds of community hospital pediatric inpatient units have closed as care has shifted to ambulatory settings
Most complex inpatient acute care has already been consolidated into large regional children's hospitals
Pediatrics uses a family-centered, team-based care model
Prevention/wellness focus:  Preventative care is critical to improving population health and controlling health care costs.
40% of all preventative office visits were children
Systems in place to encourage compliance with well child visits, immunizations, and other routine care
Focused industry-wide advocacy for injury prevention (e.g., car seats, bicycle helmets) and other high priority risk factors (e.g., obesity) despite lack of reimbursement for support efforts
The challenge for leading health systems is how to capitalize on the population health management infrastructure strengths present in the current pediatric health care delivery system, including how those competencies are translatable to the adult-oriented programs and services.