Healthcare Strategic Planning: New Edition
This fourth edition of Healthcare Strategic Planning, published by ACHE, provides core insights into strategic planning practice and theory. The classic text shows how those insights can be applied to healthcare organizations. Examples from actual healthcare organizations add real-life detail and reinforcement.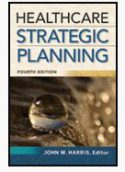 Insights from Veralon's extensive strategic planning experience.
Order Now
This new edition addresses strategic planning in the context of contemporary healthcare issues, particularly population health, value-based payment, consolidation, and shifting provider–payer partnerships. Extensive new/enhanced material includes:
Fresh strategies for incorporating strategic thinking into management routines
Expanded coverage of environmental analysis
New strategy formulation examples that illustrate the relationship among critical issues, goals, and key metrics
A step-by-step process for creating an effective implementation plan
Guidance for gaining board approval
New case studies that illustrate how successful organizations handle the annual strategic review process
A new chapter on innovation addressing business model shifts and technological and clinical advances at each step of the planning process
Editor

John M. Harris, MBA, Veralon Director, has more than 30 years of healthcare experience in consulting, management, and entrepreneurship. His work focuses on strategy, mergers and acquisitions, and the transition to value-based payment. John is a faculty member and conducts strategy seminars for the ACHE. He is also a frequent speaker for AAIHDS, HFMA, and other organizations. He publishes frequently in HFM magazine and has contributed to Futurescan, the annual guide to healthcare strategy. MORE ABOUT JOHN